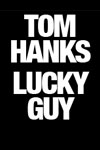 Lucky Guy
op Broadhurst Theatre
Prijs vanaf € 160.40
Catch Tom Hank´s Broadway debut in New York with Lucky Guy. Buy tickets here for Lucky Guy on Broadway in New York!
Two-time Academy Award® winner Tom Hanks will make his Broadway debut in Lucky Guy, the play by Nora Ephron, three-time Academy Award nominee, as well as being directed by two-time Tony Award® winner George C. Wolfe.
Lucky Guy returns to Ephron´s journalistic roots in this new play set in the scandal and graffiti ridden New York of the 1980´s with a story told through the eyes of charismatic and cotroverstial tabloid columnist Mike McAlary.
From his sensational reporting of New York police corruption, to to the libel suit that nearly ended his career, the play dramatizes the meteroic rise, fall and rise again of McAlary's career, ending with his coverage of the Abner Louima case for which he won the Pulitzer Prize shortly before his untimely death on Christmas Day, 1998.
Don´t miss Tom Hanks debut in this exhilirating play on Broadway!

Note: When booking tickets for New York musicals you will always be allocated the best available seats at the time of booking. We have no influence over the exact row and seat number appointed to you, as it is solely the theatre that can assign a seat from amongst the best available. Within 36 hours of you having received your first booking confirmation, you will receive an additional one showing your exact seats! These cannot be changed or altered in any way as they were the best available seats at the time of your booking!
Informatie over de locatie
Voorstellingsinfo.
Speelt vanaf
2013-04-01
Duur:
2 hours, 5 minutes
Routebeschrijving

Take the subway to 42nd. St. station

Zie op een kaart