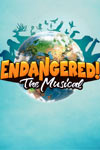 Endangered!
op Davenport Theatre
Endangered! is a multi-cultural, international and multi-species musical about a social media savvy kid reporter and a group of endangered animals from around the globe who must survive an unexpected superstorm.

Stranded at the zoo when the superstorm hits the city, the kid & the endangered animals must learn to communicate and understand each other, working together to save themselves. Endangered! has melodies that are renewable & harmonies that are sustainable, making this groundbreaking eco-musical uplifting and enjoyable for creatures of all ages!

Endangered! was originally commissioned by the Friends of the National Zoo-Smithsonian, created in conjunction with the Boys & Girls Clubs of Greater Washington. It debuted at The Kennedy Center.